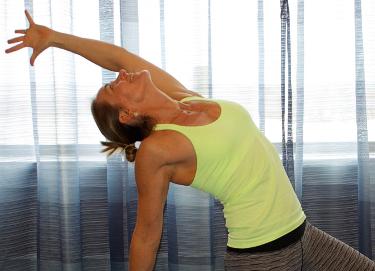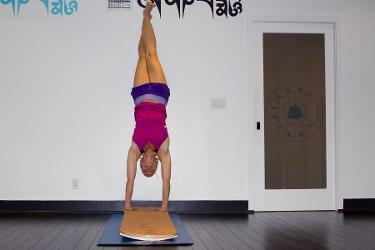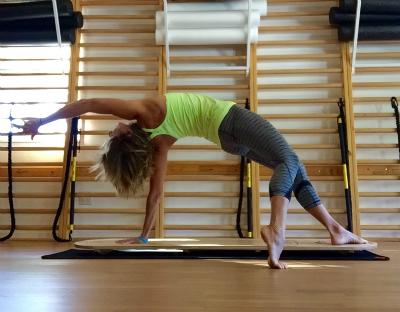 Stay tuned for Evelyn's upcoming workshops on Indo Board balance training, Stand Up Paddle racing and more. Send us your emails to surfvixens@gmail.com
Hatha yoga is a means to connect with the physical body, become conscious of the power of breath, tap into the parasympathetic nervous system to help promote a greater sense of well being. By more fully turning within, we have the ability to increase our power and impact on the world outside. Heart centered practices and meditations are a part of everything I do and I am grateful beyond measure to the teachers who have brought me this awareness of how a deeper connection to the physical body, our temple, can help balance and strengthen our mental, emotional and spiritual processes as well.
I teach a conscious breath-body flow style of class nuanced by deep attention to integral points of alignment. I love my Indo Yoga Board practice due to it's primary focus on strength building in the foundational muscles and it's ability to develop greater balance both on and off the board. There is a LOT of laughter in my classes, as I don't take myself too seriously and we seek, in every practice, to celebrate ourselves & each other exactly as we are. Namaste.
Join me at a class any time by checking the schedule above. Or contact me for a single or group private.
Privates - $175 for an hour and half
Legacy Ambassador for lululemon athletica
Ambassador for Indo Board Balance Trainer
Yoga Alliance teacher certified
Alternative Balance insured
Anusara inspired
"Evelyn's passion for her work makes her a great yoga teacher. Her class flows with the JOY of moving and, as a student, you feel you are exactly where you want to be at that moment." - Susan R.
Contact me: surfvixens@gmail.com 631-338-6046
Find me on Facebook HERE or Instagram @nysurfgirl